40 Toys For 4 Yr Olds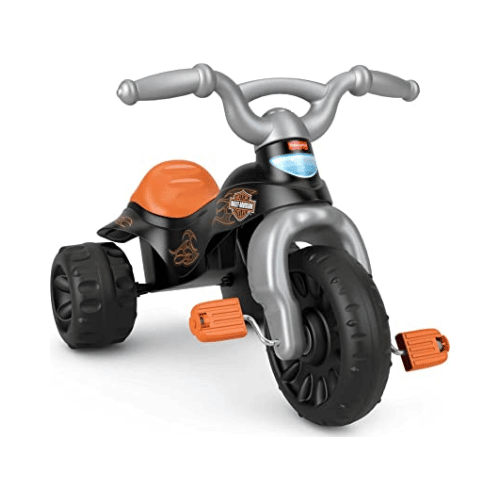 Our Top 3 Picks
Best
Tough Trike
It promotes physical activity and has long lasting features.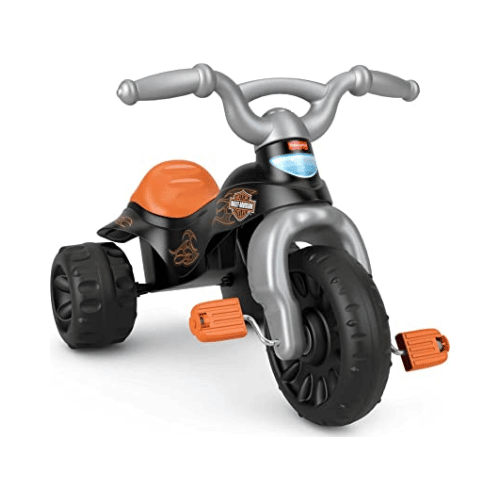 Buy it!
Also Great
Hey Clay Animals
It does not require cleanup and can be reused several times.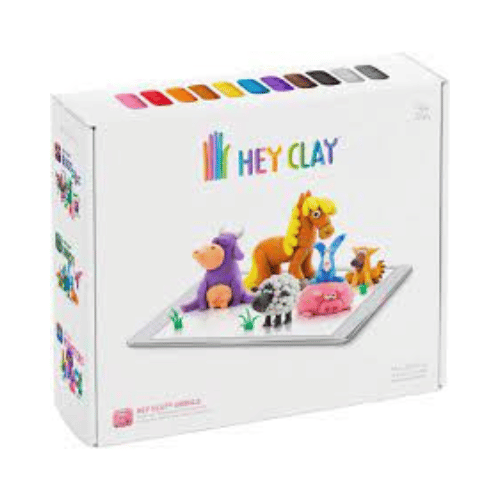 Buy it!
Good on a Budget
Melissa & Doug Wooden Building Block Set
It is low-cost and the perfect combination of learning and fun.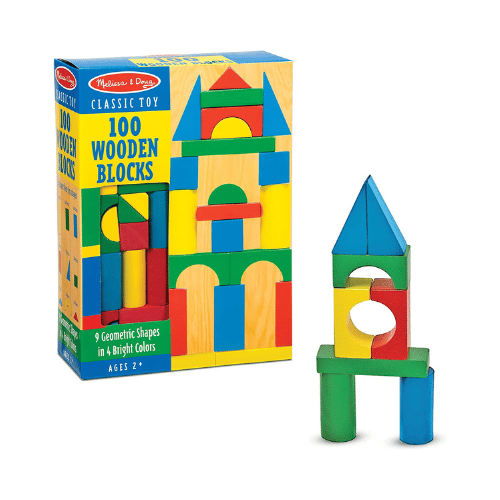 Buy it!
Educational Toys For 4 Year Olds
Three Little Piggies Puzzle Games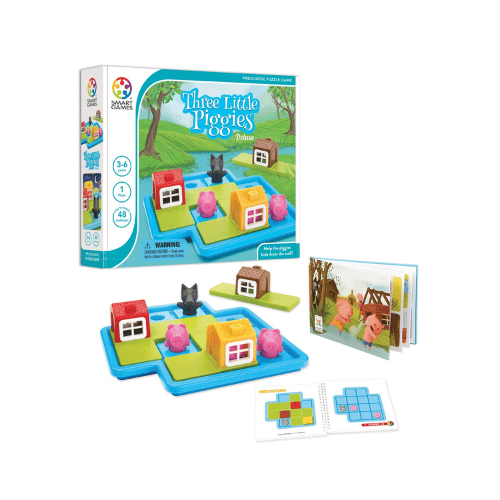 The traditional story of the Little Three Piggies gets an entertaining upgrade in The SmartGames Three Little Piggies. It is a fun educational game for young kids that fosters early spatial awareness, planning, and problem-solving abilities. It comes with three sizable, manageable puzzle pieces, a storybook with images, and a booklet with 48 fun challenges.
Get it from Amazon
Little Genius Starter kit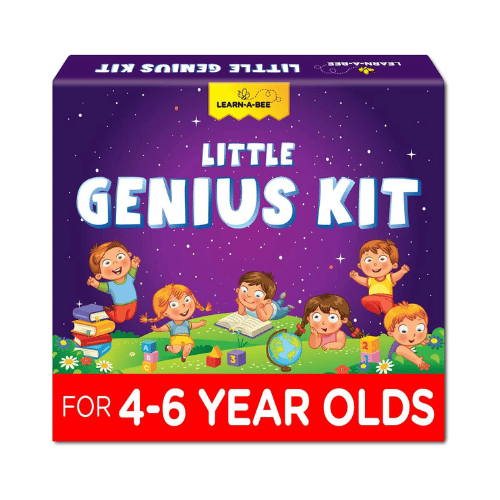 90% of a child's brain develops in the first six years of life, making the early years of a child's life crucial. This package aids in achieving a harmonious mix of enjoyment and learning. It delivers hours of enjoyable screen-free time. Six educational resources are included: three books and three activity sheets, including a science experiment kit, a wipe-clean spelling book, and a children's atlas of the world sticker book. With the help of this kit, children can enhance their reasoning, short-term memory, and speaking while also learning about letters and spelling.
Get it from Amazon
Charades For Kids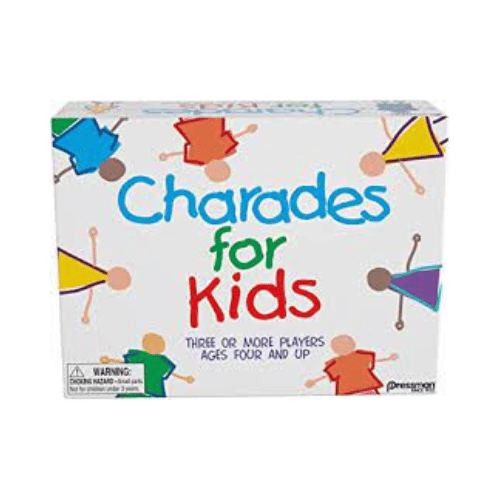 In general, charades are a lot of fun. Little ones can participate in this enjoyable guessing game with the help of The Pressman Charades For Kids. Each card offers one of three visual clues, so reading is not necessary. However, the combination of the picture and its related word helps young children develop their early reading skills. It is a cognitively and physically engaging game.
Get it from Amazon
MelissaAndDoug Wooden Building Blockset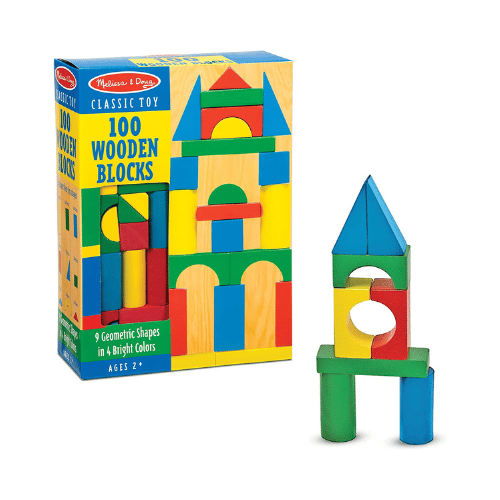 The Melissa & Doug wooden building block set is a great educational toy for toddlers. Having hours of screen-free play and learning is made possible by this traditional educational toy. They give youngsters the fun of putting together colored blocks to create whatever they want to build while teaching them about shapes and colors. They also introduce early math concepts and aid in the development of children's patience and strong motor skills. Despite being large and made of wood, the blocks are lightweight, and the edges are rounded to protect the youngster when they play.
Get it from Amazon
Magna Tiles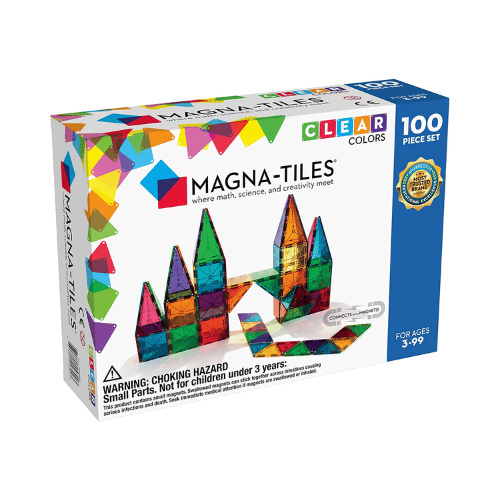 Magna Tiles are a fusion of math, science, and creativity. It sparks hours of imaginative free play in children. Anything they can imagine, they can create. The product comes with 100 translucent, colorful magnetic tiles in different shapes. The magnets are fully encapsulated using ultrasonic welding, which prevents tiles from breaking apart while playing and provides maximum fun with zero accidents for the young ones. The tiles are 100% non-toxic, safe, durable, and built to last for years.
Get it from Amazon
Around The World Building Kit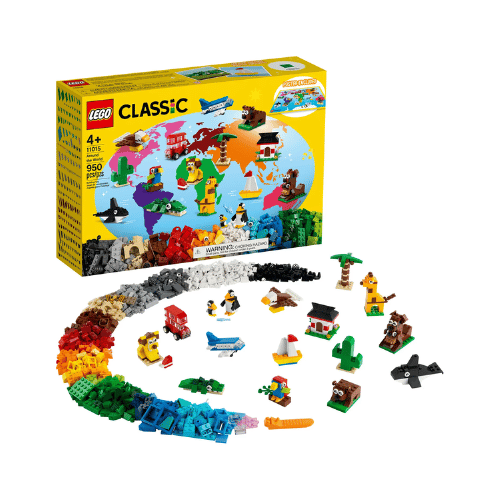 With this LEGO Classic Around the World playset, you can introduce youngsters to some of the most popular creatures and things around the world. The playset includes 15 building models that are based on well-known animals and things from all over the globe. Each animal and plant's native continent is depicted on a colorful wall map. The models in the sets give kids ideas and motivation, encouraging endless, unrestricted play while fostering their creativity and motor abilities.
Get it from Amazon
Zoo Crew Memory Game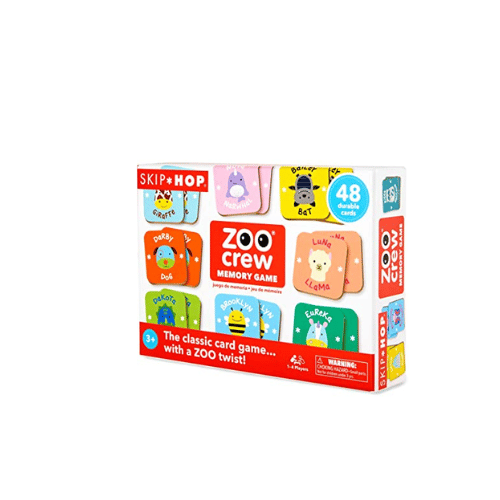 These large and sturdy memory cards are perfect for little hands. Playing memory games helps nurture the children's brain functions, and encourages matching, fine motor skills, plus hand-eye coordination. This memory game set consists of 48 durable cards with Skip Hop signature zoo characters. It is suitable for single or multi-players.
Get it from Amazon
Talking Kids Microscope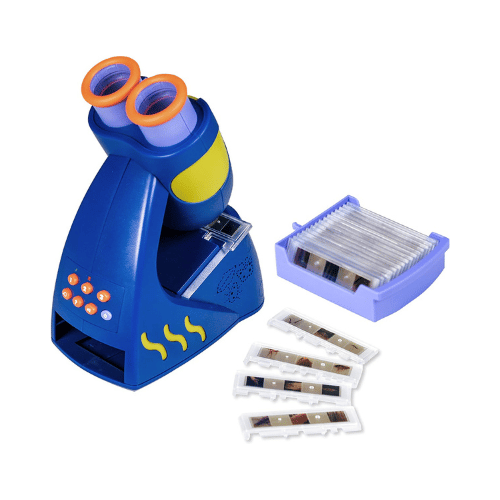 A genuine scientific toy that is simple to use and educationally entertaining is the GeoSafari Jr. Talking Microscope. The offering includes 20 high-quality specimen pictures on slides. Their understanding of animals and plants will be increased thanks to the talking microscope. Kids can choose between Fact Mode, which teaches them about the items on a slide, and Quiz Mode, which assesses their knowledge of science. When looking for educational toys for kids, this one should be on your list. Additionally, cleanup is a breeze because all slides fit within conveniently for storage.
Get it from Amazon
Outdoors Toys For 4 Year Olds
Bubble Machine Gun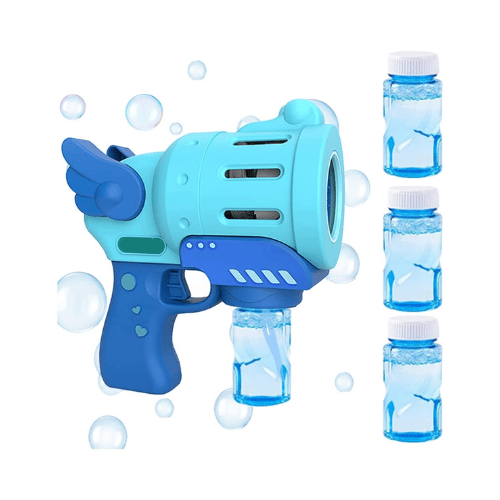 Playing with bubbles is a lot of fun, and we're sure your youngster agrees. Ready, aim, and fire tons of bubbles with the bubble machine shooter. Led lighting enhances the beauty and color of the bubbles beneath the lights. The adorable design, flashing lights, and simple replenishing bubbles solution will keep the kids entertained for hours.
Get it from Amazon
Kids Basketball Hoop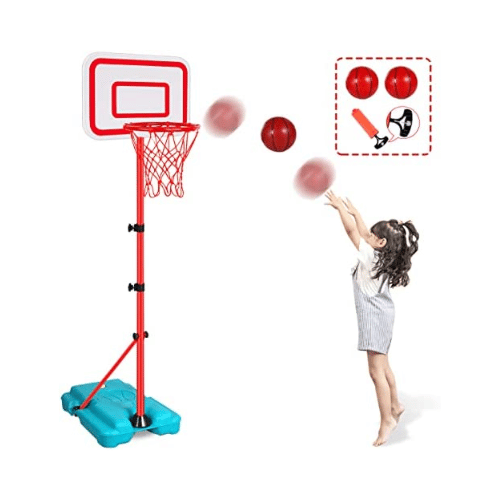 Basketball is a fun and exciting game for kids of all ages, it promotes physical fitness and can develop hand-eye coordination in kids. This kid-sized adjustable basketball hoop promotes active play and makes playing sports enjoyable and doable for developing children. The basketball hoop is more stable thanks to the triangle-shaped base and pole. The product is also incredibly easy to put together and disassemble.
Get it from Amazon
Bean Bag Toss Game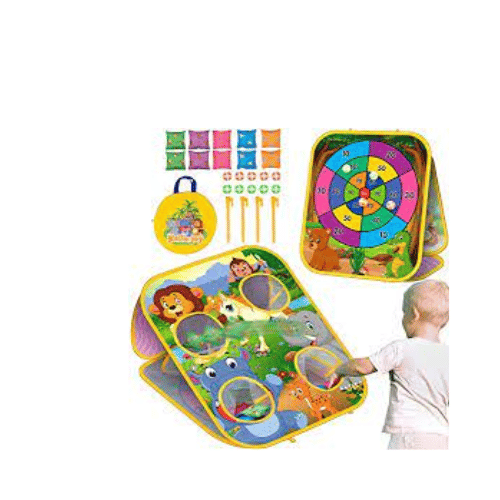 For young children, the bean bag toss is an excellent outdoor activity. 10 bean bags, 10 sticky balls, a storage bag, a manual, and a double-sided playing board make up the HelloJoy Bean Bag Toss Game. The youngsters can experiment with two different gaming options: the simpler horizontal bean bag throw game and the more difficult vertical dart game. In addition to making children and families happy, it aids in the development of their creativity and motor abilities. 
Get it from Amazon
Jump' n Slide Bouncer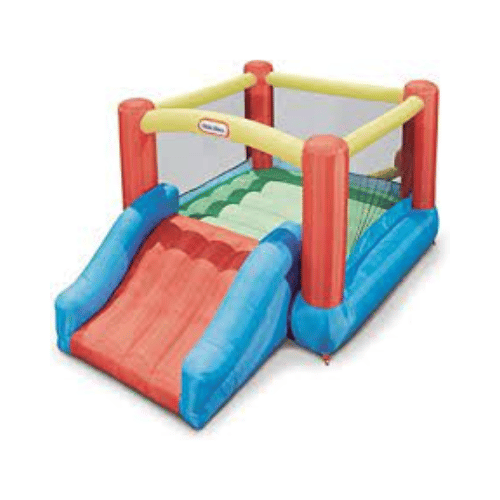 The Jr. Jump N Slide from Little Tikes is a particularly exciting bouncer. It has an enclosed bounce area and a uniquely alluring extra-wide slide that allows children to race down it. The inflatable bouncer is made of material that is resilient to punctures and encourages physical fitness. It has a powerful blower that provides constant airflow, and because of its compact size, it's simple to move and set up in practically any place.
Get it from Amazon
Junior Rocket Launcher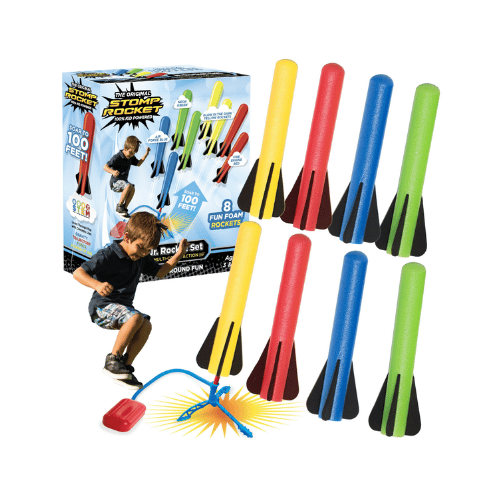 The Stomp Rocket Original Junior Rocket Launcher is made to encourage kids outdoors and away from screens. Eight foam rockets in various colors, including two each of red, blue, neon green, and yellow that glow in the dark, are included in the package. Without the use of batteries, the toy rocket launcher is entirely kid-powered. The child-safe Stomp rocket launcher is simple to assemble and long-lasting.
Get it from Amazon
Airplane Toy With Infrared Remote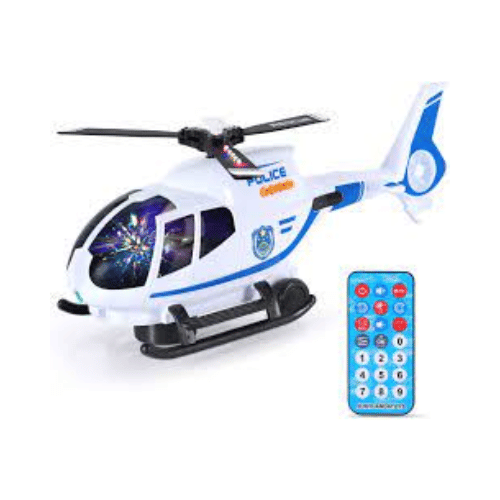 This toy is an excellent addition to any child's outdoor toy collection. It encourages the development of hearing and enables the child to recognize various sounds at a young age. The remote control controls the forward, and backward functions. It also changes the music and adjusts the sound. Because the toy airplane is made of high-quality plastic, it won't break easily and will last for a very long time.
Get it from Amazon 
Tea Set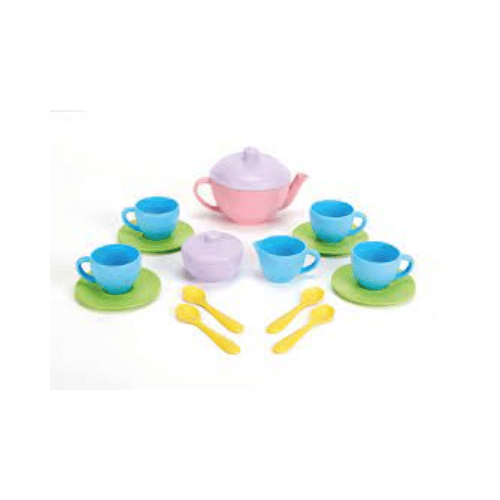 The Green Toys Tea Set is perfect for a fun-filled day outside. While serving tea to family and friends, the kids can get additional knowledge about recycling, protecting the environment, conserving energy, and lowering greenhouse gasses. In addition to being good for the environment, this toy is made to help kids improve their gross and fine motor abilities. They will acquire organizational skills as a result of it. This tea set will last for many years because it is lightweight and resilient.
Get it from Amazon
Kids Play Tent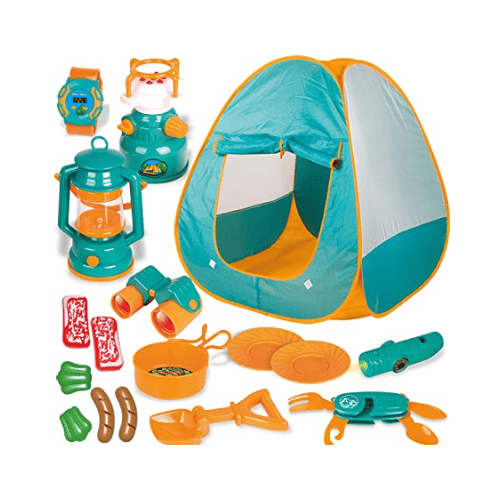 The Fun Little Toy Kids Play Tent is last on our list but certainly not least. Nothing says outdoor fun like camping. Little campers can set up their camping excursions with the help of the 18 camping essentials included in this outdoor play tent. It comes with a pretend-play battery-operated gas stove and oil lamp, as well as other items including binoculars, a utility knife, a multipurpose whistle, a cooking pan, plates, a shovel, and a pop-up tent. Young children can use the pop-up tent as a reading corner, a napping area, or a small play area.
Get it from Amazon
Riding Toys For 4 Year Olds
Radio Flyer Tricycle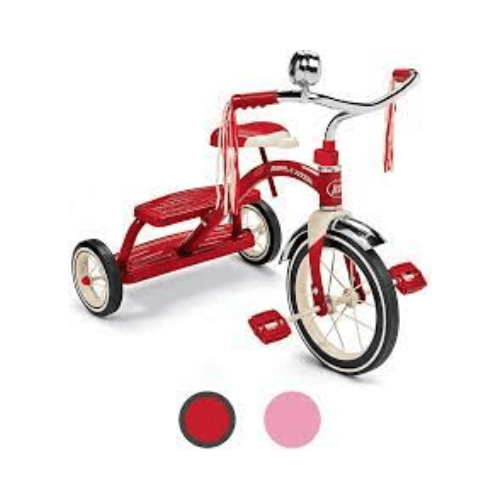 If you're searching for a toddler's riding toy, this tricycle is a great choice. This Radio Flyer vintage tricycle has a spoked front wheel, a steel frame, and rubber tires for endurance. The streamers add fun while the hand grips give comfort. The adjustable seat that grows with the toddler is our favorite feature of this trike.  It guarantees years of fun.
Get it from Amazon
Toy Pedal Tractor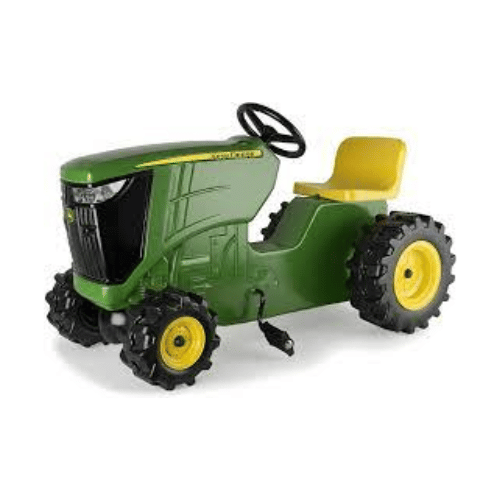 Driving a tractor looks like a lot of fun, and we're sure the youngsters agree, which is why we present you with a safer alternative, the John Deere Ride On Toys Pedal Tractor. The tractor takes the traditional toddler ride to the next level, and the design inspires imaginative play. It comes with adjustable seats, a functional steering wheel, and easy-to-reach pedals.
Get it from Amazon
6KU Scooter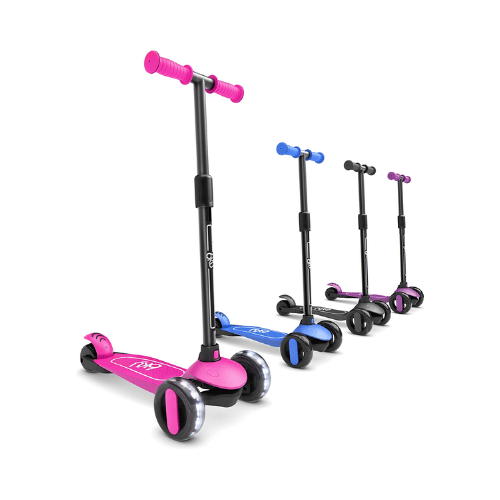 The next item on our list is this premium scooter. This 6KU scooter is fantastic for playtime or for a long family stroll. The scooter can support up to 110 pounds of weight, which is sufficient for regular use and can last for a very long period. The lights on all the wheels provide a really stunning lighting display when the sun begins to drop. The lights make it simpler to spot the toddler while they are riding and give passing motorists a heads-up. It serves as a safety guarantee for when the little ones ride at night.
Get it from Amazon
Pedal Go Kart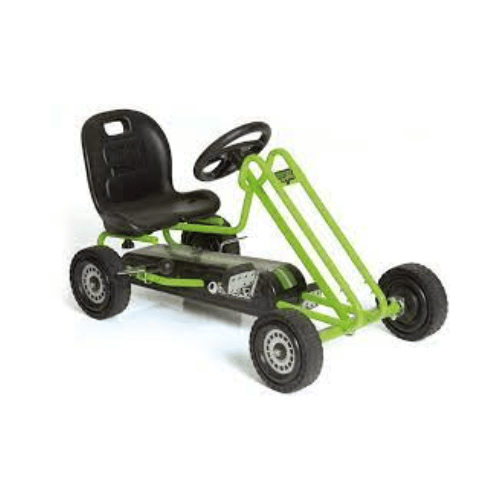 Due to its unique design, excellent safety features, and strong handling characteristics, the Hauck Lightning Pedal Go Kart is a fantastic option. Young racers will be excited by the Lightning's rapid responsiveness and crisp handling. The Lightning offers an authentic driving experience, allows the driver to regulate the pedal speed, and has revolutionary, long-lasting features. Additionally, it promotes physical activity and enhances coordination, strength, and endurance.
Get it from Amazon
Radio Flyer Cyclone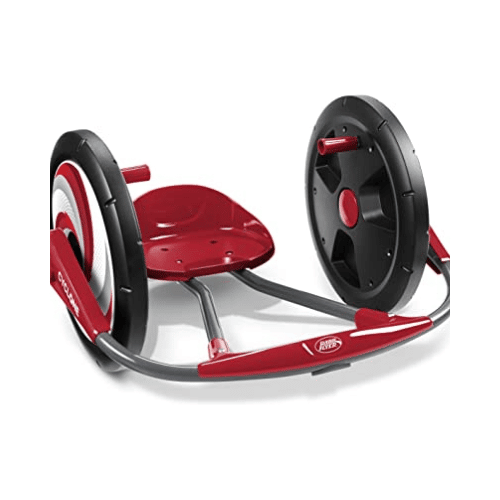 This eccentric fun toy is next in line. This kid's ride-on toy allows the user to zoom forward or roll in reverse with comfort hand grips that guide the ride. It takes the word "fun" to a whole new level. The solid steel frame and rear caster wheel ensure years of endless fun.
Get it from Amazon
Tough Trike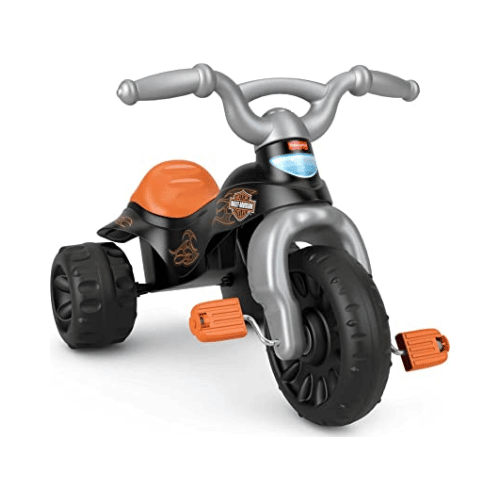 This cool rugged trike is a fantastic addition to any child's collection of ride-on toys. They will enjoy cruising on this Harley-Davidson-styled tricycle with durable tires that help take them wherever they want to go. The sturdy trike also boasts fascinating features like the concealed storage space under the comfort-ride seat, a broad, stable wheel base, easy-grip handlebars, and large foot pedals that make it easy for even the smallest riders to begin going.
Get it from Amazon
Wiggle Car Ride-On Toy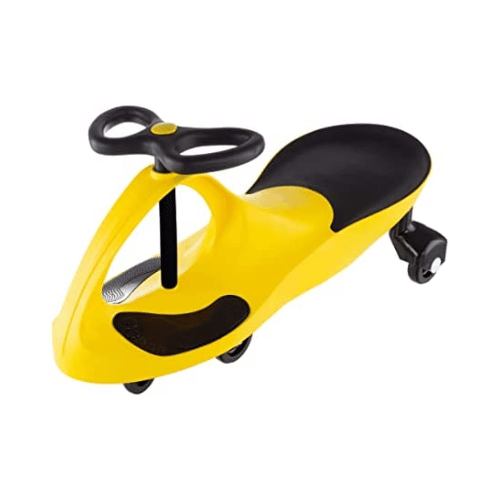 This futuristic-style toy is up next. The young ones can stay active using the Ride-On Wiggle Car. It is a secure, simple-to-ride toy that is great for playtime because it doesn't need batteries, pedals, or gears. They will have hours of fun with the Wiggle Car; all they have to do is twist, wiggle, and drive. The toy has undergone safety testing, free of banned phthalates. It also provides healthy exercise and is made from high-quality plastic.
Get it from Amazon
Step 2 Whisper Ride II Push Car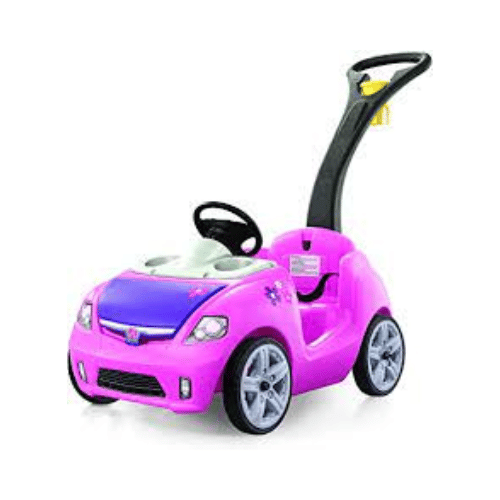 This sleek and fashionable children's push automobile is perfect for family strolls. With the changeable steering wheel and realistic horn, they'll love playing while driving their supercar. Use the provided seat belt, pack some munchies in the under-hood storage, put your drink in the cup holders, settle in, and then take out on your next adventure. The ride-on car has easy-fold handles for simple transportation and quiet wheels for quieter travel.
Get it from Amazon
Bath Toys For 4 Year Olds
Sprinkler bath toy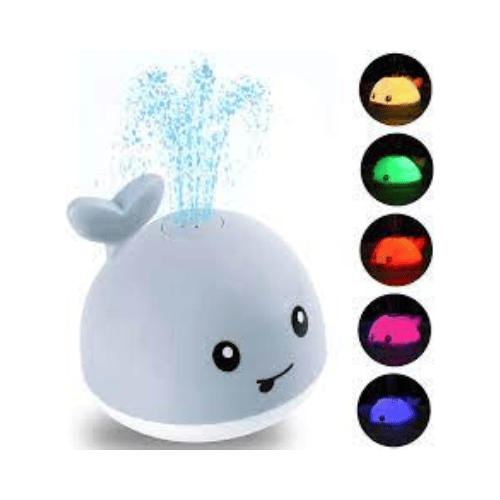 Bath time will be made more enjoyable with the Gigilli Sprinkler Bath Toy. You don't need to flip any switches for this adorable whale baby bath toy to automatically absorb and spray water when submerged in the water. It also emits flashes of vibrant lights. It is extremely robust, composed of high-grade ABS, and has rounded edges to safeguard children's skin. The bath toy is also odorless, non-toxic, and colorfast. To stop power leakage, the battery case is provided with sealing silicone.
Get it from Amazon
Baby Bath Water Slide Toy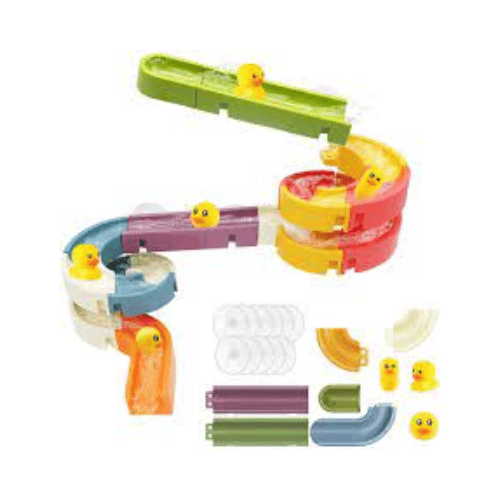 The Wall Bathtub Toy Slide will make taking a bath exciting for the little ones. This bathtime bathtub track toy can help kids learn to use their hands, inventiveness, and hand-eye coordination. Their ability to see color may also be enhanced. Kids will enjoy running water along the track while they bathe and watching the little duck toys slide into the tub.
Get it from Amazon
Space Rocket Bubble Machine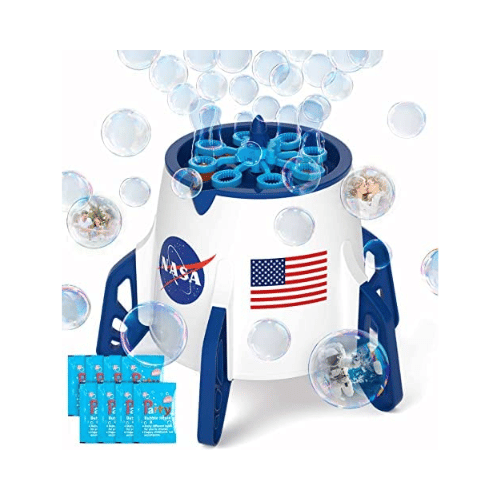 Blast your little one's bath time into space with the Space Rocket Bubble Machine. The bubble machine features an original  NASA space rocket concept. Kids can have a lot of fun taking a bath, especially if they get to play with bubble toys. This electric bubble blower gadget will captivate kids' interest and provide hours of entertainment. A bubble-blowing device, 2.7 ounces of concentrated bubble solution, and one micro screwdriver are all included in the bundle.
Get it from Amazon
Floating Purple Octopus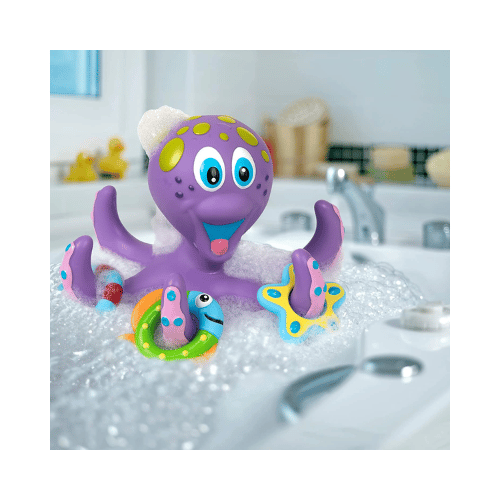 Let your child's imagination soar while taking a bath. The Floating Purple Octopus is a floating bath toy with three rings that promotes interactive play. This toy will keep kids entertained for hours, or at the very least until bath time is done. Giving a child playthings that will aid in the development of hand-eye coordination and sense stimulation can be rewarding as you watch them grow and learn. The octopus is constructed from BPA-free soft and flexible materials.
Get it from Amazon
Bath Boat Toy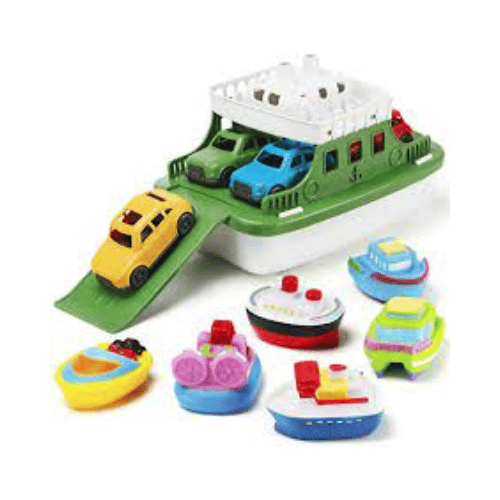 With the Floating Boat Toy, you can turn bath time into a fun sail time. Six water squirter boats in various designs, four tiny cars in various colors, and one floating ferry boat are all included in the bundle. Each boat features a little hole on the front that can be squeezed after submerging the toy in water to make it squirt. The slide-out ramp, which can transport cars both up and down the hull, is the main attraction.
Get it from Amazon
Bath Toy Mold Free Fishing Game
This bathtime fishing set is the next thing on our list. One fishing pole, one net, four tiny toy fish, and two swimming whales are all included in the package. Once you rotate it clockwise and release it into the water, the adorable whale can swim through the bathtub. Using this bath toy will undoubtedly make taking a bath more fun.
Get it from Amazon
Baby Shark Bath Toy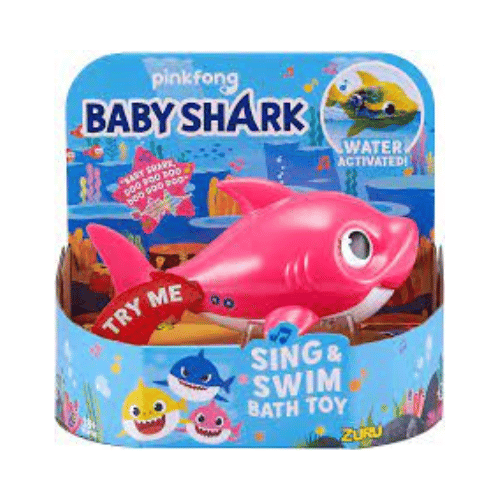 The baby shark jingle is one catchy tune that is very popular among toddlers. The youngsters will have a splash during Bath time with the Baby Shark Bath Toy. They can watch it swim and sing along as it plays the baby shark song. The toy is water activated and then automatically switches off after singing the song for four minutes. Pick it up and drop it back in the water to reset it.
Get it from Amazon
Bath Pipes Building Bathtub Toy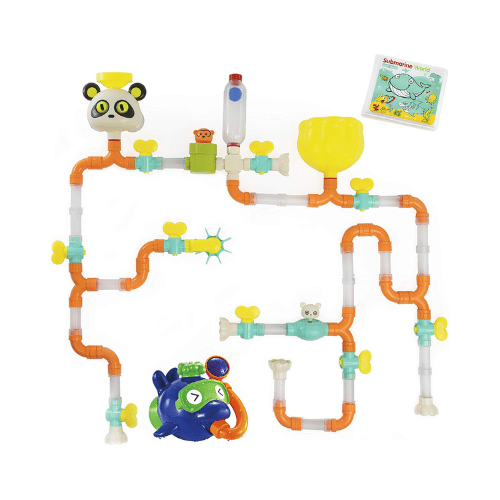 With this Bath Pipes Bath Toy, taking a bath is so much more enjoyable. The size of this toy is ideal for small hands to hold. Kids will enjoy getting the water through the various networks of pipes they assemble. The youngsters will be eager for bath time as a result. The set is created entirely of materials that are safe and mold-free.
Get it from Amazon
Arts & Crafts Toys For 4 Year Olds
Make A Real Mosaic Set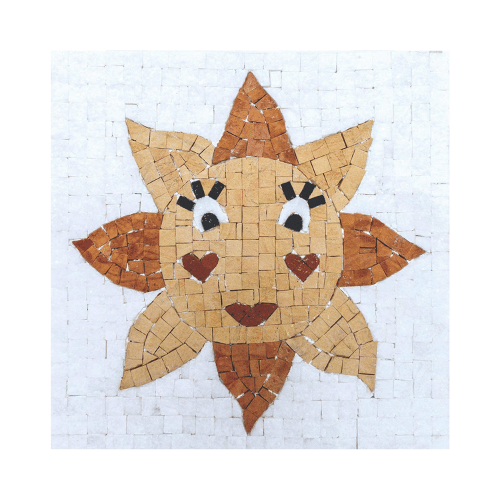 This product is for individuals who want to integrate some art and crafts into playtime. This item promotes creativity and improves spatial reasoning. The stones have already been cut by a true mosaic craftsman, making it quite simple to create. Just glue the stones to the pattern, frame them with the provided wooden frame, and plaster them to seal them. The final product is a display-ready design of a marvelously lovely sun.
Get it from Amazon
Ultimate Easel Set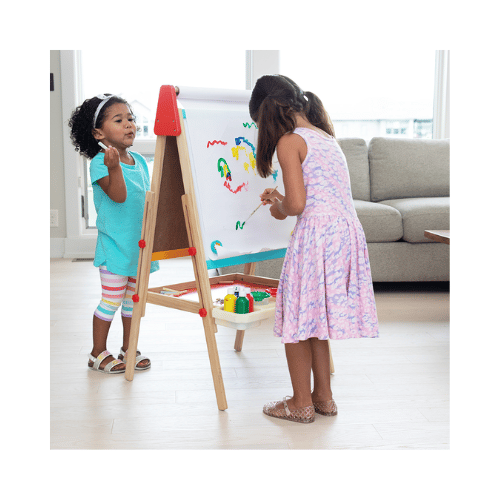 This package has everything the little artist might possibly need. A large roll of paper, letter magnets, number magnets, a magnetic dry-erase board, paint, and more are all in the set. A drawing-friendly chalkboard is on one side, and a very adaptable magnetic whiteboard is on the other side of the easel. It is very stable, will keep kids learning, promote self-expression, and aid in the exploration of creativity.
Get it from Walmart
Hey Clay Animals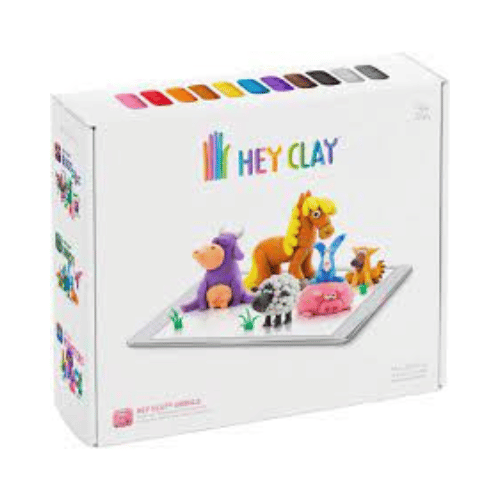 The Hey Clay Animal is a fun arts and crafts item. This colorful and squishy modeling clay is great for sensory development and play-based learning. It aids in the growth of children's fine motor abilities and imagination. Colorful, moldable plasticine makes it possible to create models of famous heroes, contemporary toys, and much more. It makes a great social activity for a playroom or party. The clay is non-toxic and won't stain or stick to your hands. In 24 hours, the clay dries by air.
Get it from Amazon
Magnetic Creation Station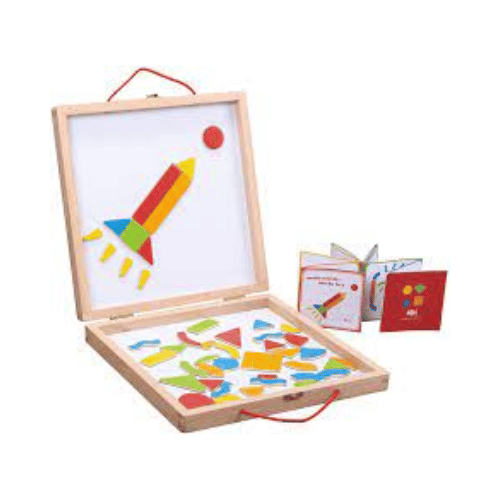 The magnetic creation station is one of our favorites. This item comes fully equipped with an idea booklet which the youngsters can use to recreate inside the lash shut briefcase. It also includes 46 colorful magnetic shapes to aid the recreation. It's time to unleash the children's imagination and encourage them to experiment and arrange the shapes however they see fit in order to create a scenario of their own invention!
Get it from Amazon
12 Paper Plate Art Kit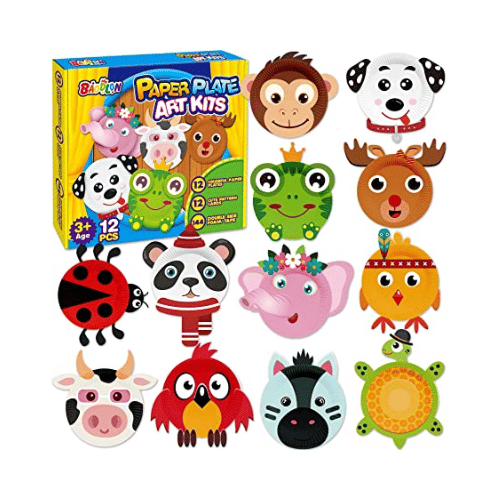 Animal plate crafts are a fantastic creative early educational toy. It changes ordinary paper plates into amiable creatures like monkeys, elephants, and other fascinating animals. The Children will have hours of entertainment, imagination, and creation. The craft plates are non-toxic and environmentally friendly. Young children are guaranteed safety because they can extract each component with ease and paste it onto the paper plate without the need for tools like scissors.
Get it from Amazon
Spirograph Jr.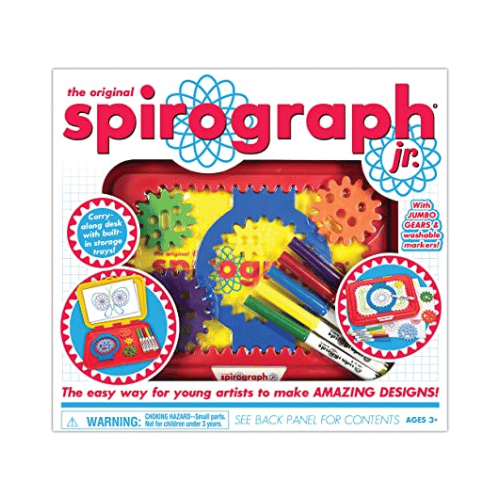 This item is ideal for small hands and developing minds as it was created with aspiring young artists in mind. The Spirograph Jr. allows the young artist to produce stunningly patterned works of art. The instruction manual demonstrates to young minds how to transform Spirograph ideas into stunning visuals, and the design gears are simple to use. Four gears, one gear ring, five art markers, a 24-page design paper pad, an eight-page design guide book, and a carry-along box with an integrated design desk are all included in the set.
Get it from Amazon
Pom Pom Pictures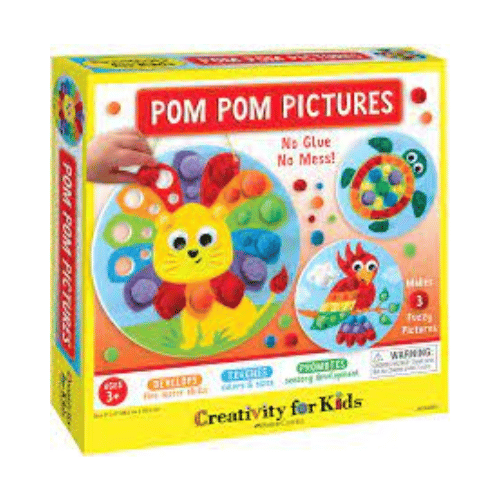 The Pom Pom Pictures can amuse and captivate youngsters. Three interesting animal-themed patterns are available for the design boards. To make designs to exhibit, press pom poms into the felt that has already been punched. The final product can be displayed with the included hanging strings, or you can make another one by simply removing the pom poms and starting anew. This product helps with hand-eye coordination, color matching, and sensory development. Additionally, it promotes independent, alone-time play. The kid will enjoy themselves while learning and making their original piece of art.
Get it from Amazon
Glam Lab Science; Luxury Soap Factory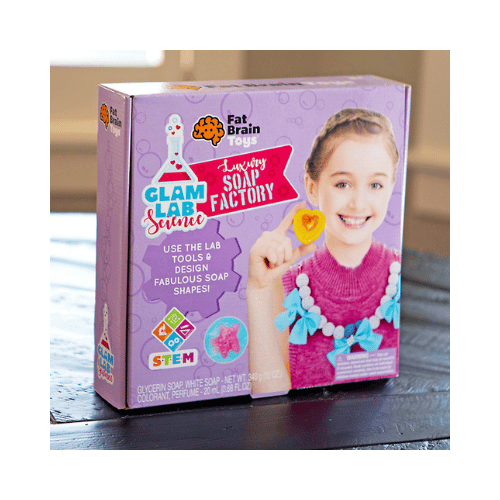 Another item that encourages creativity is the Glam Lab Science; Luxury Soap Factory. The young ones can explore the art and science of soap making with this kit. The step-by-step illustrated directions provide youngsters a simple place to start while guiding them as they mix and form beautiful soap shapes and develop the skills they'll need to experiment, learn, and create their own mixtures.
Get it from Fatbraintoys